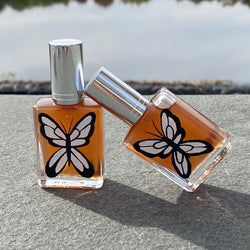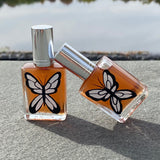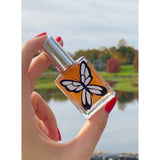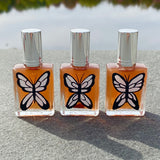 White Butterfly Pocket Spray
A white butterfly has many spiritual meanings, in different cultures. Quite often they are linked with angelic protection, or visitation from a crossed over loved one. They can also be a symbol of spiritual awakening, rebirth, renewal, and hope. 
Five first edition White Butterfly, 5 Mil Florida Water pocket sprays were skillfully hand-painted with the addition of real crystals in the bottom of each. We will intuitively choose one specifically for each order. The bottles can be easily refilled, or repurposed, and loved for a lifetime. 

Ingredients: orange, Lemon, Lime, Rose petal, Cinnamon sticks, Hibiscus, star anise, bay leaf, Hyssop, lemon grass, thyme, sage, Rosemary, basil, Cloves, Lavender, Vanilla, Calendula, Jasmine, Chamomile, vodka
Spring water
* May stain light fabrics, spot test for allergies before use.