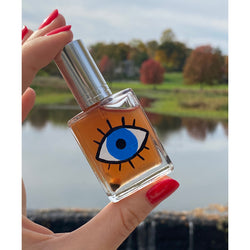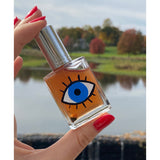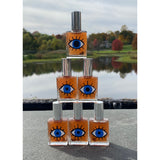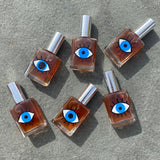 The symbol of the evil eye dates back as early as 5000 BC in Mesopotamia and has roots in Christian, Jewish, Muslim, Buddhist, and Hindu cultures. It is believed one can be cursed, by the envious, and malevolent glare of another, which is called "the evil eye." The evil eye talisman was created as a means for the carrier to be protected from curses, and evil intentions of others. 
Six first edition Evil Eye talisman, 5 Mil Florida Water pocket sprays were skillfully hand-painted with the addition of real crystals in the bottom of each. We will intuitively choose one specifically for each order. The bottles can be easily refilled, or repurposed, and loved for a lifetime. 
Ingredients: orange, Lemon, Lime, Rose petal, Cinnamon sticks, Hibiscus, star anise, bay leaf, Hyssop, lemon grass, thyme, sage, Rosemary, basil, Cloves, Lavender, Vanilla, Calendula, Jasmine, Chamomile, vodka
Spring water
* May stain light fabrics, spot test for allergies before use.